TIF to JPG
Convert online and free TIF to JPG
Uploaded filetype:
Choose filetype:
Advert:
Are you looking for an easy and straightforward way to convert a tif file to jpg file online? With file-converter-online.com the conversion is done in a few seconds. TIF files, or TIFF files ("Tagged Image File Format") are graphic files in a special graphic format that are used for color separation in scanned raster graphics. Because of the CMYK support, it is often used in the print media sector (exchange of data in prepress). In general, the TIF format enables lossless resolution of the graphics, but comes with an increased space requirement. JPG files, or JPEG files ("Joint Photographic Expert Group") are usually graphics in a widely used standard graphic format. The JPG format enables strong image compression with as little loss of quality as possible (which is nevertheless present) – this can effectively save storage space. The degree of compression of JPG files can be variably adjusted to your own needs. The primary benefit of JPG files therefore extends to saving space, which makes it particularly interesting for online publications. It is also often a standard format for digital cameras and can be read by almost any software on almost any operating system. There is a need to convert TIF files to JPG files for several reasons: In general, many mobile devices are not able to read TIF files, but mostly use the standard JPG graphics format. If the view on e-readers, tablets or cell phones is desired, the conversion to JPG format is recommended. In general, however, this also applies to any other digital processing – if maximum quality is no longer necessary, a lot of storage space can be saved here in contrast to the TIF file format. The JPG format is much more suitable, especially for publication on homepages or for sending by email. Normally, converting a TIF file is not very easy, since this usually requires special image processing software, which comes with a conversion function, such as Adobe Photoshop. Such software is usually not always free of charge, and therefore costs could arise. Our online converter offers real advantages compared to other methods: You can still upload the file via your browser without any prior knowledge, and we take care of the conversion of your TIF file fully automatically. There are no costs involved, no previous knowledge is required, and you can download the finished JPG file in seconds.
Guide: Convert TIF to JPG online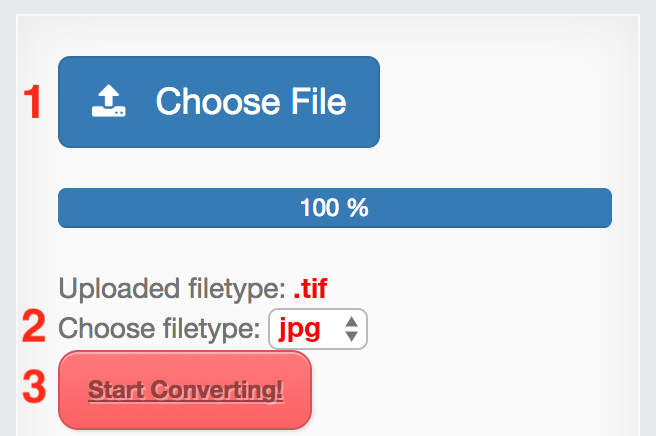 Choose input TIF file
Check target filetype and change if required (JPG)
Hit the "Start Converting!" Button
That's it! Your download will start automatically on the following page
Currently we support the following conversions with TIF files:
All Converters
Information about the extensions for the conversion from TIF to JPG
From: TIF
The file format TIFF or TIF is a file exchange format used in both print and digital cameras. TIF is the abbreviation of Tagged Image File and is written as a shorter variant of the Tagged Image File Format (TIFF), but there are no substantive differ …
File extension:
.tif
More information and converters for TIF
To: JPG
The jpg, or JPEG, file format is used for images. It is often used for digital photos, and for images displayed on the internet. It is a common format that can be opened by most computers, tablets, mobile phones, and other devices. Saving an image …
File extension:
.jpg
More information and converters for JPG
Video-Tutorial: TIF to JPG
File-Converter-Online.com is a service for converting files online from one type to another. We take care of your privacy and take care of your files. As a part of this, there's no registration required on file-converter-online.com. As we're offering our service in a browser, it does'nt matter whether you use Windows, Apple OS X or Linux. Your conversion results will always be at the same, very high quality and of course, without watermarks.